Categories
Categories
Brands
Brands
Shop by Price
Shop by Price
Easter Decorations and Gifts

Easter is a wonderful time of the year
Spring is approaching, family time, church...
Easter 2015 is on April 5th
We all know that easter is a very important time of the year at church. There are very important lessons that are remembered during this time of the year. But there is another aspect to easter that we all remember doing as kids... easter egg hunts, bunnies and chocolate! Well - we can't sell chocolate, but we do have the best decorations and bunnies in town. It's a very refreshing time of the year. Bring on the spring!!
Well - we at Absolutely Fabulous remember our childhood at this time of year and have bought some of the best easter decorations this side of... this side of... everywhere!! :)
Adopt-a-Bunny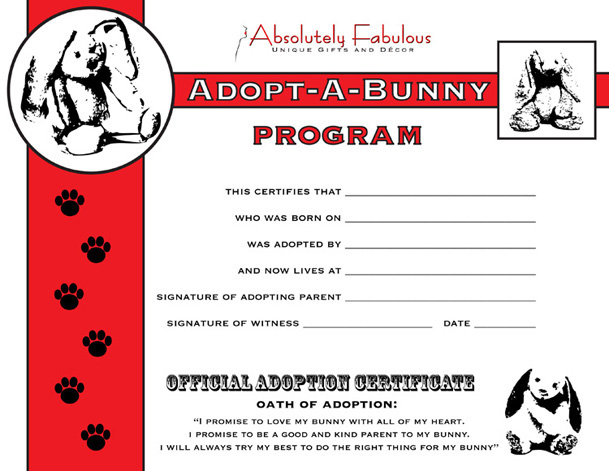 Because we are such a known easter haven (in the easter bunny world), we had a sudden arrival of many bunnies who need a home! We could not turn them away - they're so cute! Anyway, all bunnies need a loving home, right?
Our bunnies start at under $20, and range up from there... We have tiny bunnies, medium bunnies, and even HUGE bunnies. All of them need some love. All of them need a home. Won't you adopt a bunny today?
Our bunny adoptions come with an official certificate, so you can remember when your little bunny came into your life.
Don't worry if you lose your certificate - you can print another one here.
View a sample of the easter bunnies, gifts & decorations we have at our store in Huntington Beach: